Limited to the first 50 requests
Discover how SMS 98% open rate can increase your sales 30% + and ROI at least 5X
Get exclusive access to our "limited"
FREE

introductory offer of Ngagge SMS for

Shopify

to see for yourself.
You receive
10,000 free SMS messages

over three months.

Unlimited free SMS strategy

marketing, sales and customer-service sessions.

Unlimited personal help

to get started and implement features.

Cancel anytime

if you not completely satisfied with no obligation.
You give
Feedback

to help us improve the application, your store sales, ROI and add new customers.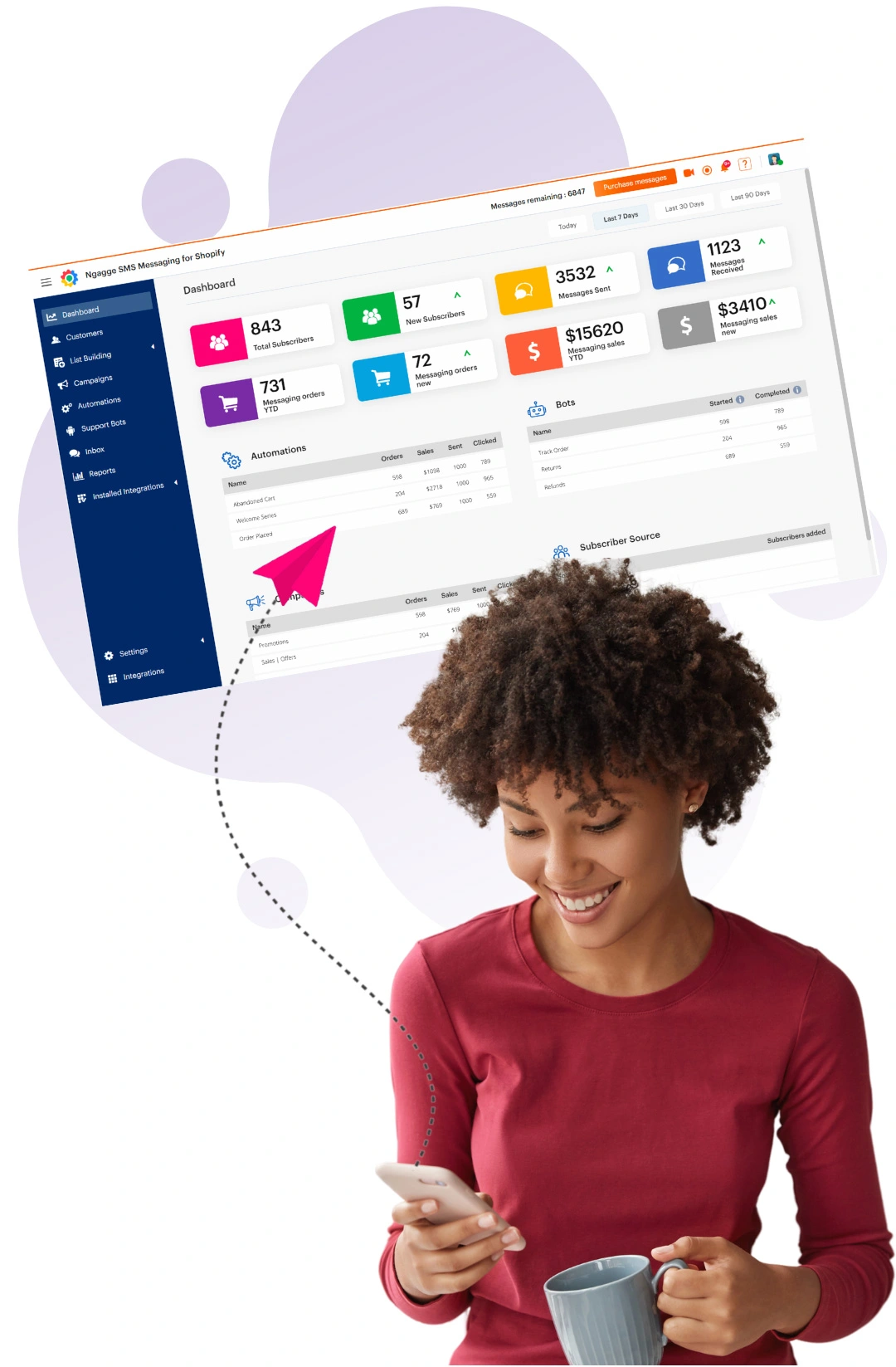 Trusted by businesses of all sizes
FAQs
Ngagge SMS for Shopify is the result of our team's experience over almost a decade providing marketing, sales and support messaging services for companies like Allstate Insurance, representing thousands of use cases and millions of conversations.
We're offering an exclusive opportunity to participate in the introduction of our state-of-the-art, full-featured, app Ngagge SMS for Shopify.
All we ask In return is your feedback to help us improve the application and provide you with the all features your brand needs to grow faster using SMS and MMS.
Due to the extent of the benefits provided, we're limiting participation to the first 50 requests.
How to participate. To participate enter your Shopify store link and click "Get started" or "Chat with us" to learn more about the offer.
SMS stategy meeting and getting started. On sign up you'll schedule a meeting, at your option, with one of our SMS strategists to learn more about your business, develop an SMS strategy, and help you get started recovering lost cart sales and building your customer list.
Addition help. Schedule subsequent meeting at any time with your strategist if you have questions or contact our us 24/7 for live help.
Free SMS. You will have 10,000 free SMS available to you during the three month period. Due to the extensive benefits offered, unused SMS cannot be carried over when you convert to a paid plan. Note that one MMS counts as three SMS and incoming SMS are not counted against your 10,000 free SMS.
Cancel at any time you're not completely satisfied. No credit card required.
If you're happy with the application at the end of the 3-month period, you can continue by purchasing the messages you need each month at what we believe is the lowest per message monthly cost in the industry, with no monthly platform or other fixed fee in addition to your message purchase.
Yes. Cancel you introductory offer any time you're not completely satisfied. No credit card is required.